Love your business again with updated bookkeeping.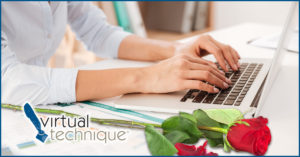 One of the biggest frustrations with running a business is "running" the business.  All the administrative work that must be done behind the scenes to keep track of the money.  If you started your business on a shoestring or you've been in business for a few years, you may HATE bookkeeping.  You can show your business a little love with a small time investment and improved bookkeeping.
If you are spending way too much time on the books, it's time to automate. Many companies I work with come to me with bookkeeping spreadsheets and word documents.  When the business was just starting out, this was the most cost effective option.  Excel or something like it comes on just about every computer.  Invoices are created in Word and updated and sent out as needed.  While inexpensive, doing the books that way is time consuming and prone to errors.  Business owners still using spreadsheets are very likely missing tax deductible expenses and are unable to reconcile bank accounts at the close of each period.  Keeping track of Accounts Receivable is a nightmare.
Cloud bookkeeping is simple and automatic.  In the past, it was very helpful (almost necessary) to understand double entry bookkeeping to use bookkeeping software packages. Not so any more!  With Xero and other cloud accounting platforms, you connect your business bank accounts, credit cards, merchant and paypal accounts to the software. Cleared transactions are downloaded each business day.  You then reconcile the transactions as you go, adding expense information as necessary along the way.  Invoices are automated and need almost no input from you to send out professional looking bills ready for payment!  You always know what is in the bank and who hasn't paid!
Maybe you've already jumped on the cloud accounting wagon, but still you spend too much time on the books or chasing payments.  There is a whole ecosystem to be built out there for your business.  Cloud accounting platforms have many add-ons to further reduce your workload.  There are add-ons for inventory management, retail, cash flow projection, payroll automation and timekeeping, accounts payable and accounts receivable to name a few.  If you have a bookkeeping challenge, chances are someone is now creating software to handle it with minimal input from you.
If you'd like some suggestions on how to reduce your bookkeeping workflow, just let us know.