Invoicing with Xero
The reason you are in business is to get paid, and hopefully get paid quickly.  Xero makes it very easy to invoice your clients and get paid.
Invoices are very easy to create.  It is not necessary to create the client first, though it is helpful.  The invoice screen looks like this: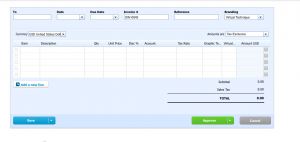 You enter who the invoice is to, the date of the invoice and when it is due.  Enter what you are billing for and you are done.  Approve your invoice ans email it to your client.  If you or your Xero advisor has properly set everything up, you will not need to worry about what kind of income it is or what tax rate it belongs to, a boon to those clients that have to file sales tax returns.
If you are a business that sends different invoices depending on what type of client the customer is, you can hard code that information into the client's record.  In the picture above you can see "Branding."  You can set the default branding by client so that you never accidentally send out the wrong invoice again.  That particular issue was a big problem for my business and I spent extra time each month ensuring that I had the proper invoice scheduled — and I still sometimes sent the wrong one!
When you connect your PayPal account to Xero, the system will automatically place a payment link in the email you send to your client.  This greatly speeds up payment since your customers no longer need to do anything but click a link in the email they already  have open to pay you.  You no longer need to create an invoice your bookkeeping system and again in PayPal.  In addition, each client can set their own access to their account with you.  They can look back at prior invoices, see a balance due and make payment right online.  This wonderful end of the year accounting when clients often ask for statements.  They can now get the information they want through self service.