How to Send 1099s Efficiently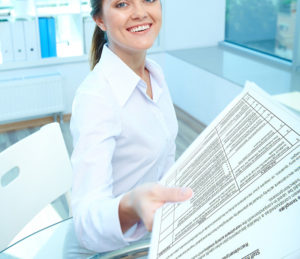 Over the past few weeks we've discussed how to gather your information so you can send and file 1099s and why you must do them.  By now I hope you have everything you need to send out your 1099s, including how much you paid your contractors last year.  Now we just send them out and file them with the IRS.
The old-school way to do this is to buy 1099 forms at the office supply store.   Make sure you buy a package that includes envelopes.  1099 forms are an odd size and it's very frustrating to be ready to send them out only to find out nothing you have on hand will fit the form.
If you go this route, the package should include a link where you can download the template so you can print them on your printer.  Then you just need to fill out the information on the template and print it out.   When I did it that way, I always printed the first one on plain paper and held it up to the form to make sure everything was going to match up. Then I printed the final copy.  Those forms can be expensive and you don't want to waste them or worse, go back to the store to get more!
Old-school is a lot of work and double entry if you already have the information electronically.  There are easier ways.
Some accounting software packages will just print them for you.  Quickbooks Online is one that will do that.  You still have to buy the forms (and make sure they are compatible with your software), but that's easy.  I still recommend that you print one on plain paper first, just to make sure everything lines up.  All that's left then is to mail them out.  Again, make sure your package comes with envelopes.
Most popular accounting software packages will link to 1099 services.  They are pretty cheap to use and they file the forms electronically with the IRS.  Once the filing is accepted you get a confirmation, just in case of any questions later.  One caveat about Quickbooks online – the e-filing service they link to from the 1099 screen is significantly more expensive than most other options.  You don't have to use it just because it has a cute button right inside Quickbooks Online.  To import from Quickbooks Online into your chosen service, go to their import page and click the QB logo.  It will import your information once it verifies your credentials.
The e-filing services will also snail mail or email your 1099s to their respective recipients.  Snail mail has an increased cost, but well worth it when you look at the cost of buying, completing, and mailing paper forms yourself.
I much prefer emailing 1099s to their recipients.  Every single year I get someone who misplaces his/her 1099.  It is much easier to just send another copy by email by logging into your chosen service.  With the e-filing services there is also a confirmation that it was "picked up."  Even if you send them by snail mail, I strongly recommend that you insist on sending additional copies by email if one of your contractors loses his paper copy.  Unless you send your 1099s via certified mail, there is no way to confirm receipt by snail mail.  Certified mail is much more expensive than using one of the e-filing services.
Now if you've read this far you are asking yourself why I haven't mentioned any of the e-filing services.  Here's a short list, my favorite is at the top.
Track1099.com
Tax1099.com
Whisky9.com
Efilemyforms.com
If you have any questions about getting your 1099s out by the deadline (most services want them by January 27th to guarantee filing by January 31st) just email us or message us on Facebook.